Our Faith
We are a Catholic community committed to developing educational opportunities in the context of Gospel values, where students' gifts and talents are celebrated and nurtured through lifelong spiritual and personal experiences.
Parish Information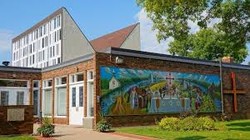 Our Lady of the Angels' Parish
10004 - 101 St.
Fort Saskatchewan, AB T8L 1V9
Phone:  780-998-3288 
Fax:  780-998-1868
Pastor:   Rev. Kristopher Schmidt 
Associate Pastor:  Rev. Anthony Narisetty SAC
E-mail:  olangels@shaw.ca or olangels.ftsask@caedm.ca
Website:  http://www.olafortsask.caedm.ca/
Our Lady of the Angel's Parish Website Subscription to "formed.org"
Our Lady of the Angel's Cluster of Parishes has purchased a subscription to FORMED – an incredible online gateway to the best Catholic content, all in one place.  To register please visit formed.org, click on Register (lower right of page), enter our parish code:  WQ6QYH, and continue with your personal information.
Patron Saint
St. John XXIII
St. John XXIII's passionate views on equality were summed up in his famous statement 'We were all made in God's image, and thus, we are all Godly alike.' Pope St. John XXIII was the third of thirteen children born in Italy. He entered the seminary at the age of 12 and was ordained a priest in 1904. He was elected the 261st Pope at the age of 76 and called the Second Vatican Council. He was affectionately called the "Good Pope", in Italian, "il Papa buono". He was canonized in 2014 by Pope Francis, along with Pope John Paul II. His feast day is October 11. 
Our staff, students, and parents explore and learn about Saint John XXIII's Daily Decalogue as a way of living our daily faith life.