Health Champions-Healthy Kids
Health Champions-Healthy Kids
At Saint John XXIII, we believe that fostering healthy habits is an integral part of growing and learning. We strive to incorporate health and wellness learning and activities daily to give kids a chance to be health champions in mind, body, and spirit. We begin each Monday assembly with a mindful moment and incorporate regulation activities that students can use in their every day lives. Our Healthy Living team leads us in movement at every assembly and engages our community in ways to move and be active. Our morning announcements feature a Healthy Living daily announcements that is themed each month for healthy minds and bodies. Our faith is our foundation and woven into each element of being healthy in spirit. Our two Health Champions, Mrs. Ekdahl and Ms. Bennett, work alongside administration to foster health and wellness within our school community. 
Outside Play & Movement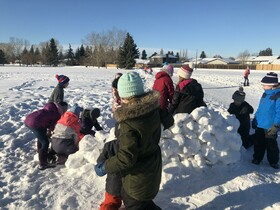 Get outside! Moving and Playing: We believe children need daily, frequent opportunities to be outside and engage in unstructured play and movement. At Saint John XXIII, we have three recesses and will encourage students to be outside and come prepared for any weather.
Alberta Winters: Alberta Kids-Polar Bear Recess (Read Below)
Our EICS Division Administrative Procedure 134 provides guidelines for us at Saint John XXIII for responding to the winter months:
Decisions regarding outdoor activities are to take into consideration inclement weather that may result from the following conditions or combination of conditions: Continuous rain; Extreme wind, and/or Extreme cold

The suggested guideline is that students do not go outside if the temperature is - 25 C or colder. The suggested guideline above is at the discretion of school Administrators and staff as part of their consideration for determining whether recess will be inside or outside. Outside time is sometimes shortened or withheld to accommodate winter conditions

Morning: Supervision begins at 8:30 am, please do not drop off students prior to 8:30 am.

Recess is a very important time for students for play, social-emotional regulation, fresh air, and exercise. We will go out almost every recess; rain, snow or shine. Please ensure that your child comes prepared for the weather. Recesses will be indoors only during extreme weather conditions deemed unsafe to head out for even short spurts.

In order to support the important balance of learning and play, we will have three responses to recess breaks to respond to Alberta weather:
1. Regular recess outside (temperature and conditions not an issue)
2. Inside Recess (Extreme cold and/or weather conditions that are deemed unsafe for full duration of outside playtime)
3. Polar Bear Recess: (Temperatures are lower and cold but still safe to head outdoors for short periods). Students must be dressed for weather conditions and during a Polar Bear recess, students will be given a choice to head outside for a short duration of supervised play or stay indoors for supervised play.
We know from research that outside play is so important for a child's mental, social, emotional, and physical well-being and we will do all we can to support daily outside play as much as possible.
Healthy Eating-Nutrition at Saint John XXIII
Healthy Eating: Nutrition at Saint John XXIII: EICS recognizes nutrition as an essential element of student and staff wellness, and acknowledges its role in optimal growth and development. As a division, we are committed to creating nutrition environments in schools that promote and provide access to healthy food choices for all. Our Administrative Procedure reinforces the principles of healthy eating outlined in Eating Well with Canada's Food Guide and the Alberta Nutrition Guidelines for Children and Youth. Our education for students, staff, and parents works with the Comprehensive School Health approach.
In accordance with our EICS Nutrition AP, our school will:
Ensure strategies are in place to foster the knowledge, skills, and attitudes that promote healthy eating.
Using the Alberta Nutrition Guidelines, distribution of food in our elementary school will align with the Choose Most Often and Choose Sometimes categories.
Special events will incorporate the principles outlines in the Alberta Nutrition Guideline for Children and Youth.
Hot Lunch Programs will provide healthy choices from the Choose Most Often and Choose Sometimes categories, and will phase out foods from the Choose Least Often categories.
Schools will use non-food rewards to provide incentives.
So what, now what? What does this mean for students, staff, and families of Saint John XXIII?
We recognize that nutrition is fundamentally a parental decision and we acknowledge parents as the first teacher of their child.
Staff will continue to share information and ideas about the categories with students and families.
We will not be able to distribute any birthday "treats" or food that is brought in. If your child would really like to share on their birthday, there are many non-food options available such as: a book donation or pencils.
Administration will continue to work jointly with our Hot Lunch Coordinators to ensure nutritious choices are made available.