Brighter Beginnings Program 2016 - 2017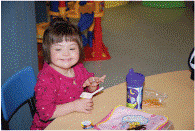 Brighter Beginnings is an Early Intervention Program specifically tailored to meet the individual needs of each child between the ages of 2 1/2 to 5 1/2 years who have a severe and/or moderate delay in one or more developmental areas, such as speech and language, fine and gross motor, or a medical condition.
Elements of the program include faith-based curriculum, learning through play, early literacy and multi-disciplinary assessments, including outside referrals if necessary.
Staff utilize a wide variety of teaching strategies and methods to help each child develop to their potential. Brighter Beginnings works collaboratively with agencies such as Family Support for Children with Disabilities (FSCD), Multi-Disciplinary Team (MDT) service providers, CASA, Glenrose and pediatricians. 
Staff conduct family visits approximately once per month to share strategies and discuss the family's needs. Parents are strongly encouraged to attend workshops to help address their child's needs.
Funding is available through Alberta Education under Program Unit Funding (PUF) and is available for up to three years.  Children with mild/moderate special needs, or who are gifted and talented, are eligible to receive special education services and programming at 3 1/2 years of age. If your child will be attending a public school, it is recommended that they be registered in their community school for kindergarten.
Brighter Beginnings Program Brochure
 A Fairy Tale Beginning Registration Form
Frequently Asked Questions:
How do I know if my child qualifies for PUF?
You can contact Marg Schimpf, your family physician or book an appointment with the Speech Language Pathologist at the Fort Saskatchewan Health Unit. 
What is the cost of this program?
There is no cost other than a registration fee at a Fairytale Beginning ($50) and a small list of supplies. 
How often does my child attend?
Your child would attend St. John XXIII School 2-3 half day sessions and A Fairytale Beginning 2 half day sessions a week.
For more information, please contact:
Marg Schimpf, M.Ed.
EICS Early Learning Consultant
780-449-6485, (extension 2053)
margs@eics.ab.ca
Brighter Beginnings October 2016 Newsletter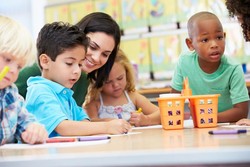 Please have a read through the Brighter Beginnings October Newsletter for great tips and resources!
 
Yearly Calendar
Please click here to access the 2016 - 2017 Brighter Beginnings Calendar.