Back to all posts
Posted on
Welcome Back to School 2021-2022! We are so excited to see you!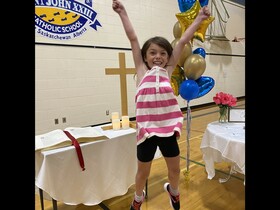 Welcome Back Saint John XXIII kids and families! We are so excited to grow and learn with you this year! We recognize there are still some wonderings as we begin a new year together but have faith that we will continue to navigate the journey together as a Saint John XXIII village. Together with our Saint John XXIII Parents (the "big" people), we will work diligently to hold the big worries and big pieces, and leave the little joys of childhood growing and learning to our littles. The biggest ones, we will give to God. The most important thing to remember and know is how much every child at St. John is valued, welcomed, and loved. We are looking forward to seeing you on: 
September 1: Staggered Entry Students with last names A-L
September 2: Staggered Entry: Students with last names M-Z
September 3: First day of classes for all students
Please contact us with any inquiries you may have. 780-998-7777 or school email: stj@eics.ab.ca. 
"We have been called for such a time as this." (Esther 4:14)